Dock your phone to your vehicle vent using Steelie magnetic mounting technology. The Magnetic Phone Socket adheres to your device or case using 3M® VHB® adhesive, while the Vent Mount clips easily and securely to most any vent blade. The Magnetic Phone Socket articulates around the Vent Mount allowing you to smoothly adjust your viewing angle so your phone is always visible, accessible, and right where you need it.
PRODUCT INFORMATION
The Steelie Vent Mount Kit is a brilliant solution for keeping your smartphone secure and visible when you're in the car – any car. It consists of two simple components: 1) a Steelie Magnetic Phone Socket that adheres semi-permanently with 3M® VHB® foam tape, either to the back of your case or to the phone itself, and 2) a versatile Steelie Vent Mount that securely clips to most vehicle vents, and is just as easy to unclip, so it can be used in multiple vehicles. The Steelie Ball's round shape allows radiant positioning options, so you can tilt your phone to any angle, and the strong magnetic attachment of the Steelie Phone Magnet Socket keeps your phone securely in place and where you need it.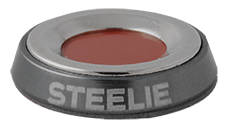 *The Steelie Magnetic Phone Socket contains a strong magnet. This magnet will NOT damage your mobile device; however, do not place it near magnetically sensitive objects such as credit cards, pacemakers, or computer hard drives. Nite Ize assumes no liability for damage to such products.
PRODUCT DETAILS
The Steelie Vent Mount Kit allows secure attachment for nearly any mobile device, with or without a rigid case, to any vehicle vent with unlimited viewing angles
Each Steelie Vent Mount Kit includes one Steelie Vent Mount, one Steelie Magnetic Phone Socket with 3M® VHB® adhesive, and installation kit
Steelie Vent Mount has a cast aluminum body, a cam locking lever that securely grips the device to nearly any vehicle vent and incorporates a stainless steel ball that connects to the Steelie Magnetic Phone Socket
Clip & Go – Steelie Vent Mount features an easy-to-use universal clip that attaches & detaches from nearly any vehicle vent – no tools required.
Steelie Magnetic Phone Socket features a powerful neodymium magnet and silicon center to provide a strong grip and smooth glide on the Steelie Vent Mount
The neodymium magnet is safe for use with all phones and tablets
The Magnetic Phone Socket features 3M® VHB® foam adhesive for secure attachment
3M® VHB® foam adhesive can be removed without damage to surfaces
Click here for Application and Removal Instructions
Adjusts and holds in any viewing angle
Steelie Magnetic Phone Socket and Steelie Vent Mount components are sold individually:
Steelie Magnetic Phone Socket – Perfect for families that have multiple mobile phones or devices, but who share a vehicle.
Each phone can have its very own Steelie Magnetic Phone Socket to easily attach when they are behind the wheel, or to take advantage of the strong magnet to secure to any metal surface.
Steelie Vent Mount – Everyone in the household will want a Steelie Vent Mount to keep with them when they move to any vehicle!
Dimensions: 1.2in x 1.0in x 2.5in | 31.1mm x 25.1mm x 63.5mm
Weight: 1.9oz | 53.9g